REVIT FOR ARCHITECTURE
Create more accurate and optimized designs
Use Revit building design software for every phase of your project, from concept to visualization. With BIM tools, capture and communicate concepts and precise design intent.
What you can do with Revit
Place intelligent elements like walls, doors, and windows. Revit generates floor plans, elevations, sections, schedules, 3D views, and renderings.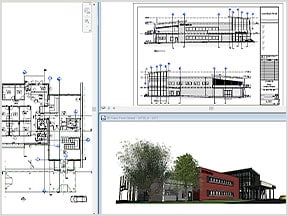 Analysis
Optimize building performance early in the design process, run cost estimates, and monitor performance changes over the project's and building's lifetime.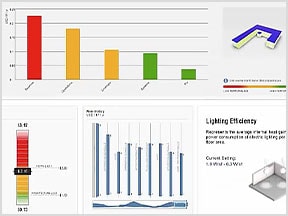 Visualization
Generate photorealistic renderings. Create documentation with cut-aways and 3D views, and stereo panoramas to extend your design to virtual reality.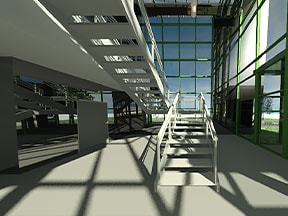 Multidiscipline coordination
Since Revit is a multidiscipline BIM platform, you can share model data with engineers and contractors within Revit, reducing coordination tasks.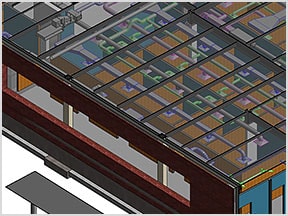 REVIT FOR STRUCTURAL ENGINEERING
Streamline projects, from design concept to fabrication, with Revit® Building Information Modeling software. Improve installation accuracy and constructability by connecting your structural design to the detailed model.
Concrete reinforcement

Model 3D concrete reinforcement in an advanced BIM environment. Create detailed reinforcement designs and shop drawing documentation with rebar bending schedules.

Design-to-steel workflows

Connect steel design and detailing workflows. Define design intent for a higher level of detail for steel connections in the Revit model.

Design documentation

Create more accurate, detailed documentation of steel and concrete designs. Model elements are direct presentations of information from the building database.

Structural analysis

Conduct structural analysis and export to analysis and design applications with the analytical model while you create the physical model in Revit.

REVIT FOR MEP ENGINEERING

Design complex building systems with confidence

Revit Building Information Modeling software helps engineers, designers, and contractors across the mechanical, electrical, and plumbing (MEP) disciplines model to a high level of detail and coordinate with building project contributors.

Integrated design

Streamline the engineering design process with Revit. Use a single model to enhance the communication of design intent, before construction begins.

Analysis

Conduct simulations and interference detection earlier in the design process. Use conceptual energy analysis data for engineering-driven calculations.

Documentation

Design, model, and document building systems in the context of a full building information model, including architectural and structural components.

Fabrication

Model for MEP fabrication with tools that automate the fabrication model layout. Prepare a model for detailed coordination of fabrication and installation.

Construction

What you can do with Revit

Make smarter decisions

Reuse design intent models to make planning and preconstruction decisions earlier. Align your construction modeling efforts for downstream uses.

Connect design to detailing

Model steel connections with a higher level of detail. Use tools to better connect structural design to detailing, helping reduce time to fabrication.

Prepare for fabrication

Use integrated content from fabrication products to convey intent beyond the design phase. Create models ready for fabrication and building systems installation.

Better communication

Use Revit models to coordinate information to improve office-to-field efficiency, quality assurance, and quality control. Increase construction site layout productivity.